Membership fee payment and registering for doula search
On payment of the membership fee for Suomen Doulat RY, you can enter your own information into the doula search on this site. The instructions for registering and payment follow. These instructions are for a desktop presentation - if you register on a mobile device, some of the selections may be found in a different place, for example in the burger menu.
1. Login to the website
Click in the top right corner the text Log in/Kirjaudu sisään. If you have registered previously on the new website, log in with those credentials. If you are a new user complete the registration steps.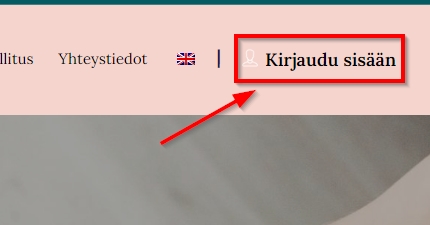 2. Select your membership type and add your listing
Click top right next to your user name, the " + " button (plus). Select annual membership, it will be automatically renewed unless you cancel your membership.
Next go to the data entry. Provide as complete information as possible. You may use your personal, trading or company name as your heading.
Take note that your location and service region will determine when your details are served in a doula search. Set them carefully so that the search is as accurate as possible for all parties.
Overview field is user to provide free-form details about you. Remember to also indicate your location and region of service here as the search fields are not visible to those browsing the results.
If you have a web site or booking page you can link to it in the Website address-field. Similarly you can include your Instagram and Facebook links.
3. Make payment and publish
Now you can preview your listing. You can edit/muokata the details or proceed directly to payment and publishing/maksa ja julkaise. The buttons are at the bottom right of the page.

On the payment page you can select your payment method (credit card/luottokortti) and select the recurring payment/toistuva maksu option (recommended), and click Next/Siirry seuraavaan.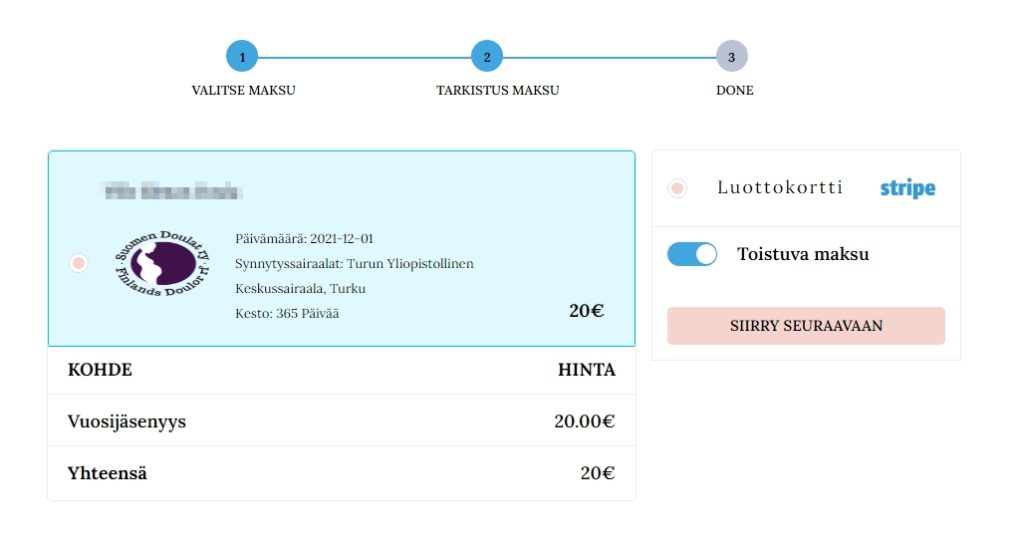 Provide your email address and card details and accept the payment.
4. Approval of the listing
The listing may require approval by a moderator. This will not take long, and you will receive confirmation when the listing has been approved and is visible in the doula search.
You can edit your listing information at any time via the dashboard, which you can access by hovering over your username or icon at the top of the page and selecting Control panel.